How it Works
THANK YOU FOR USING WIREBIDS!
It only takes a minute to register. You don't need an account to view auctions, but you will need an account to bid. WireBids users can bookmark lots, view their bids and edit their profiles. Click here to create your account now!
HOW IT WORKS:
An independent seller posts the auction on WireBids. Buyers can view the seller's terms, location and lots on the lot listing. If you would like to hold your own auction, please contact us here.
BIDDING:
Please bid with care! If you are not able to purchase the item you have bid on, contact WireBids immediately at sales@wirebids.com to cancel your bid. By bidding you are entering into a binding contract. You will be obligated to purchase if your bid is highest when the auction closes. Read the seller's terms, as they are different from the terms of WireBids. The seller determines the payments accepted, deadlines, pick-up dates and more. These terms are listed on each lot listing page, with the seller's location and contact information. If you win the auction, you will be bound by these terms. Timed online auctions at WireBids will automatically extend if a bid is placed within a certain number of minutes of the closing time of a lot. This extension facility will apply even if the newly placed bid does not exceed the proxy of the current winning bidder.
PAYING:
If an auction closes and you are the highest bidder, you will receive an invoice including the lots you have won, amount due, the seller's contact information, and payment options and restrictions. Reach out to your seller directly after the auction has ended if you do not hear from them. If you have trouble reaching your seller, or have any concerns, please feel free to contact WireBids at help@wirebids.com or by phone at 1-888-229-5733. The sooner that payment is arranged, the more likely you are to receive your purchase on time! Late payment policies may differ from seller to seller, but in order to maintain WireBids as a place where buyers and sellers want to do business, your account may be placed under review in cases of multiple non-payments or non-payments on high ticket items.
NEED HELP?
Check out our Frequently Asked Questions. You can reach customer service here or by calling our toll-free line at 1-888-229-5733.
---

NEXT
Verified Account Requirements
Verified Account Requirements
A WireBids user may become verified to let sellers know that the bidder has undergone a process to demonstrate the truth of their identity. Some sellers may restrict bidding in their auctions to verified users only. A user may become verified through the Buyer Dashboard by providing the following information:
A credit card on file
A valid government-issued ID
Once WireBids has received this information, we will verify the account and you will be permitted to bid in restricted auctions for which you qualify.
User verification does not imply that WireBids endorses or guarantees the user's activity. It only means that the user has taken extra steps to provide identifying information to WireBids which may be shared with a seller in case of default.
---


Listing Types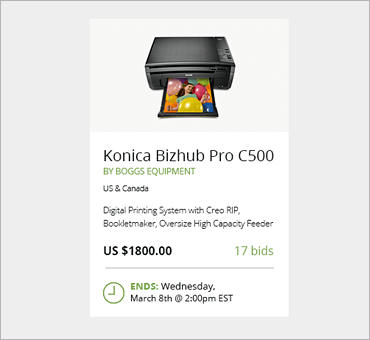 TIMED AUCTION
These individual timed lots are offered outside of a traditional online auction event. You can bid on these items the same way you would if they were part of a larger auction.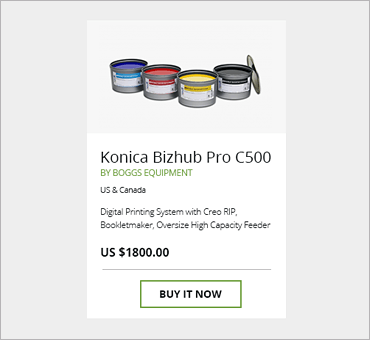 FIXED PRICE
Buy it now! These items are offered through the WireBids marketplace. Purchase the equipment you need, when you need it without having to wait for an auction to close. You can submit offers or buy items outright, directly through the website.
---

PREVIOUS
Verified Account Requirements

User Testimonials
WHAT DO PEOPLE THINK OF WIREBIDS?
"We have used WireBids to both purchase and sell of surplus equipment. The team at Wire Bids is helpful and professional. They are always looking to help someone present their machinery in the best possible light. Their helpful suggestions maximize the amounts we receive for our machines. Similarly, When we buy equipment, they are always eager to help us contact the seller to answer our questions before we place a bid."
SAUL SPIEL
Spiel and Associates
"Good place for selling and buying used printing equipment - real people you can speak with over the phone and I deeply thank everyone in wirebids! I have sold more than I bought but it was great experience and will keep using them in both ways"
"WireBids have provided an auction site that enables me to sell my graphic arts equipment with ease and professionalism. I am a very satisfied client and will continue to use their services."
KENNY LEITCH
Enhanced Graphic Equipment Solutions
"We recently started using Wirebids to move some of our excess stock and we are very pleased with the broad scope of the audience and satisfied with the price we got. The staff at Wirebids are excellent, we totally enjoy working with them. Keep up the good work Wirebids. We will definitely use you again."
DARRYL DREVER
Cortech Quality Presentation Products, Inc.
"Great support from staff. Easy way to sell your used equipment. Have made several purchases and gotten a great deal. I will continue to use Wirebids."
ALEX PIERSON
Pierson Litho
"I've used WireBids since its inception. I find it as the most reliable resource for both buying and selling used equipment. The fact that the auction is driven into buyer's inboxes without them having to specifically be searching for an item gets us better results than other "post & hope for an outcome" sites. Fees are simple, reasonable and honest and we get great personal customer service from our account representative, Sarah. I regularly steer customers who are looking for particular equipment to the WireBids. I've been a live auctioneer and in the printing equipment business for over 40 years and I visit the WireBids site at least every other day."
---